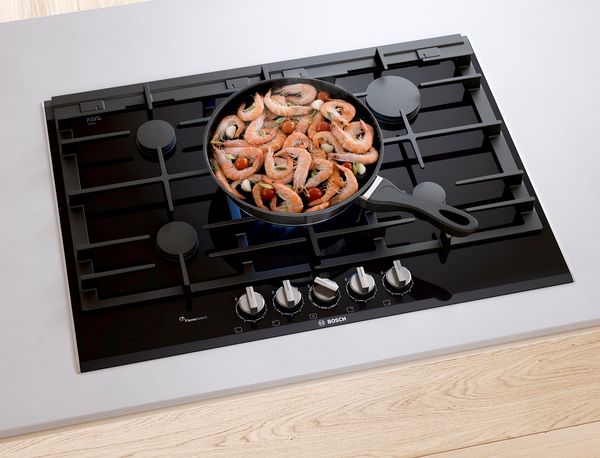 Our exquisite menu
Bosch gas hobs are available in 2 variants – stainless steel gas hob and glass gas hob. We have burners which range from 3 to 5 burners thereby meeting every family's needs.
Built To Perfection
Safe and seamless. Watch our renowned chefs stir away the magic of their recipes on Bosch hobs; that are specially perfected for Indian cooking.
Twice as fast as gas
Induction hobs can heat food and boil water nearly twice as fast as gas and three times faster than ceramic hobs*. And as they're also more energy effcient, you'll save money as well as time.
Perfected for India
Bosch hobs have been engineered with Indian cooking habits in mind. They are equipped with triple flame burners for even distribution of heat, strong pan support and with flame failure device for safety.
Easy to clean
A hob that comes with easy-to-remove pan support makes the cleaning of liquids and food much easier. Our hobs are fitted with rubber gaskets around the switches to ensure there's no water seepage while cleaning.
Safety
Safety is not an option while cooking with gas. Ensure that your gas hob is engineered with the latest safety functions, such as the Flame Failure Device which cuts off gas supply in case the flame accidentally extinguishes.