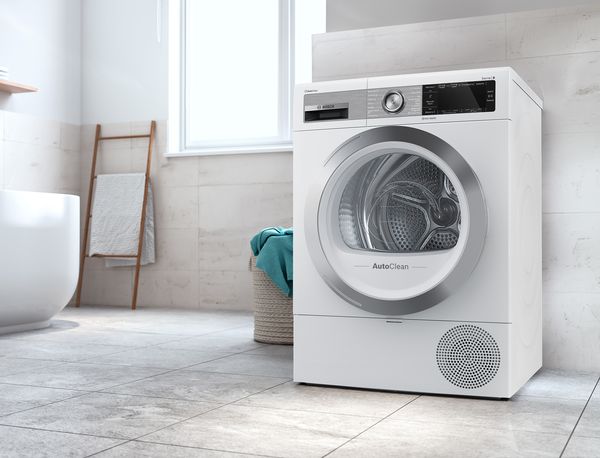 With our condenser tumble dryers, all you need is a plug.
Our condenser tumble dryers are economical, and extremely simple to use. The moisture extracted is automatically collected in a container. All you need to do is plug your Bosch Dryer in a socket.
For faster drying: A vented tumble dryer.
With vented dryers, your washing dries particularly fast. These smart, resource-saving dryers simply draw in air from the room, heat it and blow it through the clothes as the drum tumbles them. The damp air is exhausted to the outside through an air extractor hose. As a result, the drying process is particularly economical.
DuoTronic Technology
This dryer is clever. It detects the moisture and regulates the heat accordingly. When your clothes are perfectly dry, it senses it and stops the drying process. It also selects the optimum temperature and drying cycle so as not to damage any of your fabrics.
SensitiveDrying System
Our dryers have an airflow system that, combined with the unique drum and paddle action, creates an exceptionally efficient and caring dring environment. The large drum with unique textured surface ensure greater care of even the most delicate fabrics, improving the airflow and keeping the laundry raised from the surface of the drum.
Anti-Crease Cycle
This programme is meant to reduce your ironing worries. Its gentle drum action automatically separates and smoothens your garments for up to 60/90 minutes, giving your clothes a wrinkle-free and ready-to-go look.
Drying programme for every fabric.
Bosch Dryers feature a list of special programmes designed to make life easier. They take care of your clothes, save time and energy and give you options to suit your need and lifestyle.