Ingredients
| | | | |
| --- | --- | --- | --- |
| Mash: | | Coating: | Croquettes: |
| Chilling Time: 2 hours | Nutmeg | 100g Flour | 1L Vegetable Oil |
| 500g New Potatoes - Floury | 30g Butter | 2 Eggs | Barbecue Sauce |
| Salt | 30g Grated Cheese | 100g Panko Flour | |
| 1 Egg Yolk | Parsley | | |
Methods
1. Wash the potatoes. Place in a pan, cover with salted water and bring to the boil at setting 9. Then cook for approx. 20 minutes at setting 4 or lower with the lid on until the potatoes are done.
2. Then peel the potatoes and press through a strainer.
3. Separate the egg. Season the mash to taste with egg yolk, nutmeg, butter, cheese, salt and parsley. Cover and leave to cool in the refrigerator for 2 hours.
4. Then shape into balls in the size you require. Whisk 2 eggs in a bowl. First turn the balls lightly in flour, and then in egg and panko flour.
5. Heat 1L oil in a pan at setting 9 for approx. 5 minutes. When the oil is hot enough, add half of the croquettes and deep-fry for approx. 2 minutes until golden brown. Leave to drain on kitchen towel. Deep-fry the rest of the croquettes the same way.
6. Serve the croquettes with barbecue sauce.
Tip: You can check the temperature of the oil with a wooden spoon. The right temperature has been reached when you dip the wooden spoon into the oil and little bubbles rise up.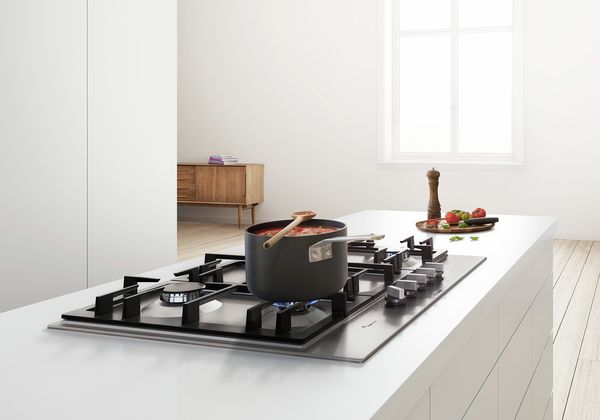 Gas Cooktops with FlameSelect Technology
The new Gas cooktops with FlameSelect and its innovative valve technology lets you precisely control the flame in 9 power levels. Now you can achieve perfectly consistent results each and every time.